Translating…
Bachelor producers have now become as famous as the show's contestants, thanks to their incessant meddling that's blessed us with season after season of entertaining and dramatic television.
Unfortunately, the downside to all of that behind-the-scenes manipulation falls on the real people who signed up for the show! According to Kelley Flanagan, that's exactly what happened to her on Peter Weber's season of The Bachelor.
Related: Colton Underwood Says 'Bachelor' Producers Messed With His Relationships Too!
The 27-year-old attorney dove into the topic during an episode of Ashley Iaconetti and Ben Higgins' Almost Famous podcast which aired on Tuesday. Flanagan said she had a feeling something was off after Peter started acting differently towards her seemingly out of the blue:
"The first couple of weeks I saw him look at me differently compared to when we got on our one-on-one and I could tell a hundred percent that like producers were in his head. Because on the one-on-one, nothing happened between us but he had this, like, demeanor toward me that was so pissed off and I was looking at him, like, 'What the hell were you told?' because nothing happened here for you to have this attitude. And so right then and there, I knew something was going on behind the scenes, and I was like, 'This is bullshit'."
Kelley said she voiced her concerns about the producers to Peter and spoke "freely" in a part of their date that never aired (for obvious reasons). She recalled:
"[I told him], 'They don't let me see you. They locked me up in a closet for three hours last week, and they won't let me see you.' I said, 'You clearly know they push some people forward and they don't push others forward.' … It's just I saw him, like, things were getting in his head that he wasn't able to make his own decision and it just kind of pissed me off."
Locked in a closet for three hours?? We know some are willing to do whatever it takes for drama and ratings but are we filming another adaption of Room or a f**king reality TV show here?? Granted, this is her account of what happened and it's worth noting the contestants are generally kept away from the lead until their designated dates but this still sounds wrong on so many levels.
This also tracks well with what Peter said about their connection recently on Nick Viall's podcast, The Viall Files, where he explicitly said things with Kelley "just wasn't gonna work on the show." Looking back on it, the two started off red hot with the added juice from their chance encounter at a wedding before filming began. But Weber (or perhaps producers?) prioritized time with frontrunners like Hannah Ann Sluss, who he ended up saving on the same group date he sent Kelley packing.
All's well that ends well, though, right?? Did fate finally bring these two back together or have things fallen somewhere in the middle…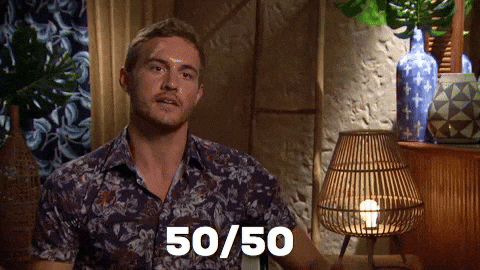 As you're likely aware by now, pilot Pete and Kelley are Bachelor Nation's latest unofficial couple! After a failed attempt at patching things up with both Hannah Ann and Madison Prewett, Weber found his way back to Flanagan and they're currently quarantining together in Chicago.
Maybe they can use all of this newfound free time indoors to make up for lost time! Peter insists they're just taking it slow right now but this excerpt from that interview with Viall really tells us all we need to know:
"Are we dating? No. Do I love spending time with her? Absolutely. We're not dating. Could I see that in the future? Yeah, of course. I'd be extremely lucky and very happy if that happened."
Do U believe this juicy BTS story about The Bachelor? And, any theories on how long these two will remain just friends?
Sound off in the comments section (below)!
[Image via Bachelor ABC/YouTube].